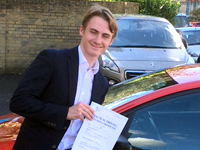 Freddie Hackett
A wholly positive experience !!!
My experience with Simon has been wholly positive. He is a thorough, patient instructor who knows the techniques required for each of the manoeuvres. I found that with him I was able to learn from my mistakes well and I can safely say that I feel like a confident and safe driver thanks to him.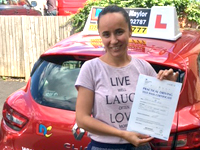 Gianina Popa
I passed - and I am from Romania !!
I am delighted to have passed my driving test in the UK. I started taking driving lessons because I wanted to be more independent; I began with no experience at all. I was very pleased to find Simon, who assisted and helped all the way until I passed my test. His calm way of explaining things and professionalism made me feel confident whilst driving. I would highly recommend Simon to anyone. Thank you so much Simon for all your help, patience and support. I'll definitely miss our lessons !!! Regards Gianina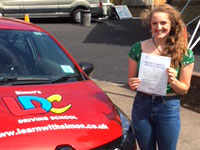 Izzy Lee
Simon had been recommended to me by one of my school friends who had also passed 1st time
Simon was the best instructor you could ask for. My older brother had difficulty finding a good instructor and I had a couple of lessons with another one previously and can confidently say Simon is the best. He was diligent in making sure I knew everything I had to for my test and supported me throughout my learning. He gave me confidence that other drivers lack, and we had a good laugh every lesson. Learning with Simon is so rewarding in that you looked forward to lessons whilst becoming a superb driver. I couldn't thank him enough. I finally have freedom and my parents can rest assured that I'll be safe. Recommending to everyone in the area - thank you Simon!! Izzy ......................Dear Simon, just wanted to say a massive thank you for teaching Izzy to drive. She has enjoyed every single lesson and is delighted to have passed first time. I shall have no hesitation in recommending you to others. Thanks again. Jenny (mother).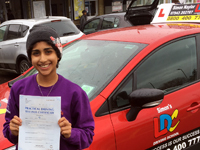 Rhea Alexander
I failed with one company but passed with LDC !!
Simon is a fantastic driving instructor; changing driving instructors to learn with him was a great decision. He is a very calm, encouraging person to sit by your side as you learn to drive – I genuinely looked forward to my driving lessons! He enabled me to pass my test so that I can confidently say that I am a safe driver. I would highly recommend him.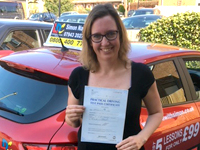 Kat Simpson
I could drive in New Zealand but not in the UK !!
My situation was slightly unusual as I needed to resit my driving test twenty years after I did it the first time, as I had moved to the UK from New Zealand. I hadn't driven in fifteen years and felt very nervous about it. Simon was fantastic, he took things at exactly the right pace so that I built up my confidence but progressed quickly. I really enjoyed our lessons as Simon was always very patient and calm. I passed my test the first time and definitely couldn't have done that without Simon's help. I would recommend Simon to anyone!
Sasha Cannon
I have told all my friends !!
I am so glad we found Simon as an instructor, he was thorough and patient - I have already recommended him to two friends - Julia Cannon (mother) I want to thank Simon so much for helping me pass first time. I felt like I had really solid foundations with Simon as a teacher, he is very calm and patient. I never felt stressed or under pressure when driving with him. I have, and would recommend him to all my friends. - Sasha Cannon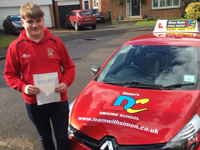 Conor Hutchinson
Passed 1st time and all before my 18th birthday !!
Driving lessons with Simon were always enjoyable and relaxed. He was always organised and always gave me positive feedback, which helped me to improve my driving and ultimately pass my test first time. I would recommend Simon to anyone looking to learn how to drive as he is very easy to get on with and a good teacher. Many thanks Conor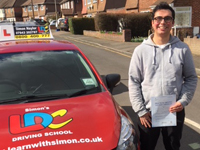 Joe Obeney
I conquered my nerves to pass 1st time !!
Simon's relaxed and patient way of teaching made learning with him a fun experience. He took the time to make sure I did everything I needed to do pass first time. The structured approach to the lessons made it easy to know what to expect from each session, and built upon previously learnt skills, which gave me confidence in my own ability, that was needed to succeed in the test. Thank you.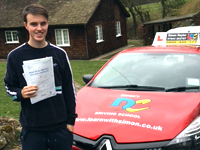 Nick Rennie
Happy to pass on my first attempt !!
I really enjoyed taking my driving lessons with Simon as he was very relaxed and friendly. He made the sessions very enjoyable whilst giving clear instructions. I was happy to pass on my first attempt. Nick Rennie,
It was a pleasure dealing with Simon as he was organised and reliable whilst being very accommodating at the same time. Thank you. Jo Rennie (mother)
James Fitzgerald
On going lessons progressing very well !!
Just had a text from James saying he's really happy with the way your driving lessons are going. Thank you for your patience with him. Paul (father)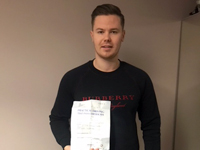 Casey Patten
Passed 1st time and only 1 minor!!
Simon is a brilliant instructor. He has lots of patience in what he does; I was very nervous as I moved from my previous instructor to Simon, as my previous instructor used to shout at anything I did wrong, but Simon is different. He turns a negative into a positive, and gets you driving the way you should be driving, giving 100% effort into you no matter the circumstances. I would rate Simon a 10/10 and would definitely recommend him .............and by the way passed first time with 1 minor. Thanks again Simon.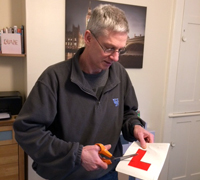 Jeff Bryan
A true answer to a prayer
My wife had the challenge of finding me a flexible instructor since my work hours are so unpredictable. Having been turned down by two instructors she was quite disillusioned and consequently lessons were on hold for months until it became urgent to get my licence. Simon was immediately helpful, flexible and obliging with my needs. He was very kind, patient, thorough, encouraging and instilled confidence, which was much appreciated, He greatly helped me to pass my test first time around! I thoroughly recommend him. Thank you so much Simon, we couldn't have chosen a better instructor.